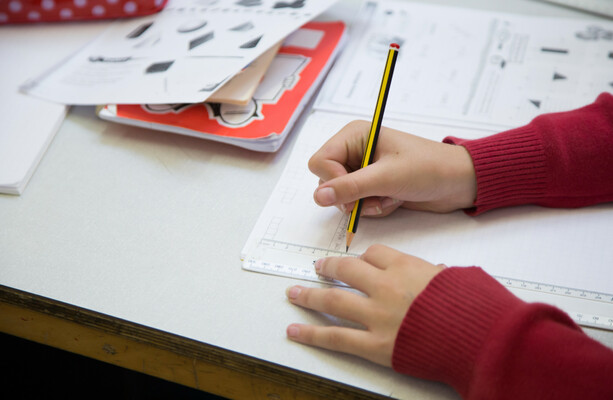 Updated Thu 8:40 PM
THE NATIONAL PUBLIC Health Emergency Team has recommended to Government that masks should be worn by children who are aged nine and older, it is understood. 
Up until now, children aged under 13 have been mostly exempt from having to wear face coverings in indoor settings, with healthcare settings, Covid test centres, and children under 13 who are attending secondary school deemed as exceptions. 
This latest advice means that children aged 9-12 will now be advised to wear masks indoors in settings such as shops, it is understood.
'Further restrictions'
Earlier today, Tánaiste Leo Varadkar said that further restrictions may be needed before Christmas to reduce the spread of Covid-19.
The Tánaiste said case numbers may be starting to plateau or peak, but added that he would like to see them fall ahead of the holiday season.
He said it would be a "big mistake" if the Government imposed new restrictions in the coming days to find out that the country has "turned a corner anyway".
Fine Gael leader told RTÉ's Claire Byrne Live that restrictions may need to be increased coming into the Christmas period, but the Government would try to avoid a full lockdown.
"I think we may need more restrictions heading into the Christmas period but I don't think we need to be fatalistic about a return to any form of lockdown or even a 'lockdown light', and I think we should try to avoid that," Varadkar said.
He added that the behaviour changes people have made in recent weeks are helping stem the spread of the virus, and the third dose of the vaccine is also making a difference.
Varadkar added that he believes the outcome of today's meeting of the National Public Health Emergency Team (NPHET) would be further advice regarding children.
NPHET is set to meet today to consider the current situation with the virus and its advice to the government.
The Tánaiste defended the government's position that schools are safer than other environments – a message that has been iterated by ministers and health officials, though Deputy Chief Medical Officer Dr Ronan Glynn said yesterday that health officials "never said schools are safe".
"There's no place that's 100% place in a pandemic other than having no contact with anyone ever," Varadkar said.
"But as far as places go, schools are safe," he said, adding that he believes children are safer in schools than at someone's house or an extra-curricular activity.
This afternoon, the European Medicines Agency (EMA) gave the green light for the Pfizer/BioNTech vaccine to be given to children aged five to 11.
The dose for the children would be lower compared to older age groups and would be given as two injections in the upper arm.
Speaking a couple of hours ahead of the announcement, the Tánaiste said: "We expect a decision soon from the EMA on allowing us to offer vaccines to children in that age group"
"That's an important thing to do once we get the go ahead for that and that will help a lot."
He said that NPHET and HIQA are examining whether there are additional actions to take in schools – "for example, primary school children being asked to wear masks".
"[That is] something we haven't wanted to do up to now because it's very hard to ask young kids to do that, but it might be in their interest."
During Leaders' Questions today, Varadkar defended the PCR testing system, stating that it is at its highest level.
Buying a ticket to see Garth Brooks is easier than booking an appointment for a Covid-19 test, Sinn Fein's Pearse Doherty said.
It has been "impossible" to book a PCR test in most counties as demand soared in recent weeks.
The HSE's self-referral portal shows no availability in almost 20 counties.
Doherty said some people have offered to swap concert tickets for a PCR test.
#Open journalism No news is bad news Support The Journal
Your contributions will help us continue to deliver the stories that are important to you
"I'm sure we've all seen the comments on social media, the bit of banter about how it's easier to get Garth Brooks tickets in the state than it is to get a PCR test," Doherty told the Dail
"Others are posting that they've got Garth Brooks tickets and are willing to swap for a PCR slot.
"While that might be a bit of light banter, the reality is very, very serious.
"It's impossible to book a PCR test in most of this state.
"In Dublin there is no slots available, Carlow none, Cork, Kerry, Kildare, Kilkenny, Laois, Leitrim, Meath, Offaly, Meath, Tipperary, Waterford, West Meath, Wexford or Wicklow.
Varadkar said there has been an "extremely high and sustained" demand for tests in recent weeks, compounded by people suffering other respiratory illnesses.
"It is necessary for us to prioritise and to adjust testing criteria in order to prioritise those most in need of a test," he added.
"The system is operating in excess of surge capacity."
Professor Mary Horgan, the president of the Royal College of Physicians in Ireland and a member of NPHET, also said today that masks in primary schools may need to be considered.
"We know for the past few months that the incidence of infection in primary school children is higher than the rest of the population," Professor Horgan said.
Speaking on Morning Ireland, she said that "firstly, they are a group that haven't been vaccinated, we know how effective vaccines are" and "secondly, they still don't use masks, the rest of the population do".
"We want to reduce the infection as much as we possibly can," Professor Horgan said.
With reporting by Lauren Boland and Christina Finn